Bard Express Seeding Cartridge, SeeDOS Code Number 70032
A convenient way to perform quality assurance measurements of loaded
BARD EXPRESS Seeding Cartridges under sterile conditions
The Source Holder, SeeDOS Code 70032, positions the BARD EXPRESS Seeding Cartridges at the most sensitive position of the HDR 1000 Plus Well Chamber. The source holder accommodates BARD EXPRESS Seeding Cartridges with any number of seeds.

Quality Assurance measurements within 5% of calibrated seeds


Measurement reproducibility better than 1%


No rotational dependence


A quick calculation provides the average seed activity

The BARD EXPRESS Seeding Cartridge Source Holder is designed for QA measurements of palladium seeds prior to use. When used with the HDR 1000 Plus Well Chamber, SeeDOS Code 90008, and the Max 4000 Electrometer, SeeDOS Code 90015, this holder provides a check of the relative activity of the seed held within a BARD EXPRESS Seeding Cartridge. In addition, the Holder can be gas sterilized or steam sterilized (autoclaved).

See detailed drawing below.
Detailed Drawing of Bard Express Seeding Cartridge Source Holder, SeeDOS Code 70032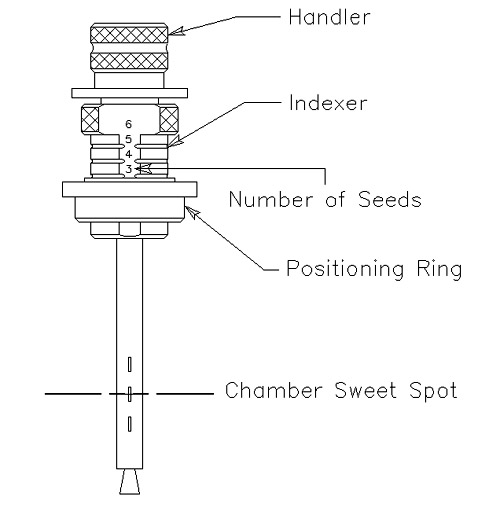 If you are interested in any of the products mentioned here, please fill out an Enquiry Form or a Quotation Request Form, so that we may promptly respond to your request.
Please contact Colin Walters at cwalters@seedos.com if you would like further information or you have questions or comments about this web site.
SeeDOS Ltd, 26, The Maltings, Leighton Buzzard, Bedfordshire LU7 4BS, United Kingdom
Tel: +44 1525 850 670 • Fax: +44 1525 850 685