Iridium-192 Seeds-in -Ribbon ( seed strands )
A range of Ir-192 seed strands ( seeds in ribbon ) are available - please enquire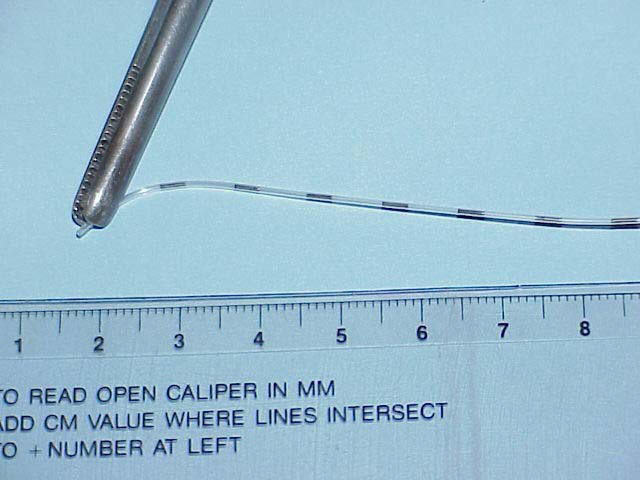 Specifications
Available seed activities : 0.2 mCi to 15 mCi per seed
Standard configuration is 1 seed per cm and up to 12 seeds per ribbon.
Non-standard configurations can be supplied ( additional assembly costs apply ). Please specify your requirements.
Standard configuration includes a 1 metre leader length of nylon tubing. Other leader lengths or no leader can be supplied on request but at extra cost.
Seed length is 3.3mm. Seed diameter is 0.5mm. Seed active diameter is 0.1mm.
Seed active core : 30%Ir / 60%Pt. Seed capsule : Stainless Steel
Nylon ( ribbon ) tubing diameter : 0.85 mm : will fit 17 gauge implant needle.
Dosimetric Parameters
Exposure rate constant : 4.6 R cm2 mCi-1 hr-1
Air kerma rate constant : 4.03 cGy cm2 mCi-1 hr-1
Dose rate constant : 4.55 cGy mCi-1 hr-1
Linear activities available : Standard Configurations ( 1 seed per cm ) :
Linear apparent activity range : 0.2 to 15.0 mCi/cm
7.4 to 555.0 MBq/cm
Nominal Air Kerma range : 0.8 to 60.0 µGy/h-1 m2 cm-1
( please specify required activity with order )
Please note : Prices per seed and per ribbon assembly are linked to activity. Quotations on request please contact sales@seedos.com .