A next generation, two channel, reference grade electrometer with an advanced, intuitive touchscreen interface, built-in chamber library for real-time dose and dose rate display, and 1 fA resolution.
TWO INDEPENDENT MEASUREMENT CHANNELS

The SuperMAX Electrometer features two measurement channels with independent control over range, bias voltage, and applied system factor. Both channels feature extensive range (0.001 pA to 500.0 nA, 0.001 pC to 999.9 μC) for use in a wide range of applications such as cross calibration between two chambers, isocenter versus off-axis and in-air versus in-water comparisons. The SuperMAX is designed to maximize flexibility encouraging the freedom to experiment with its measurement capabilities.

COMPREHENSIVE BUILT-IN CHAMBER LIBRARY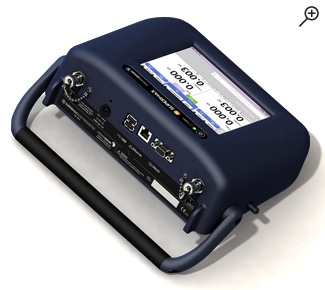 A versatile chamber library is built into the SuperMAX interface, so no additional PC or software is necessary to apply system factor and temperature/pressure corrections. These factor applied measurements are even displayed in real-time side by side with raw measurement values for increased analysis capability. Over 100 different chambers and calibrations can be stored within the SuperMAX internal memory.Individual factors can be applied to either or both measurement channels.

POWERFUL, YET EASY TO USE INTERFACE

The 6.4" color TFT display has a built-in touchscreen to make measurement control and data entry intuitive and enjoyable. Measurement values are shown with large type and corrected values are shown in a different color for easy viewing and confirmation of settings, even from a distance. An on-screen keypad and familiar pull down menus makes entry of settings such as bias voltage, threshold detection settings, and chamber library
data nearly effortless.
Features and Benefits

Versatile Charge Collection Modes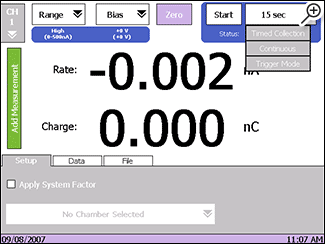 Triggered collection with automatic start, stop, and saving of data

Threshold detection levels programmable for both high and low range

Timed collection from 1-600 seconds, set in 1 second increments

Continuous Collection with manual start and stop

Built-in speaker provides audible alert to completion of charge collection and other operations or system events
Measure with Confidence
Ready in less than 2 minutes after power on; The SuperMAX has been designed to minimize warm up time and make a stable, repeatable measurement whenever called upon

Designed to exceed AAPM, ADCL, and reference grade instrument specifications

Reference class electrometer according to IEC 60731
Powerful Data Management
Store up to 100 different chamber/system factors in the

built-in chamber library, each with unique calibration

Measurement data can be exported to .csv format as easily as saving a word processing document. The included USB flash drive can be used to transfer measurement data to a PC for further analysis.

Create a database of sources and calculate projected source strength with the Check Source Utility
Superior Flexibility
User-updatable software and firmware allows for future SuperMAX updates

The adjustable handle accommodates comfortable operation and viewing angle if operator is sitting or standing
Applications
External Beam IMRT

LDR or HDR Brachytherapy

Two channel operations such as cross calibration between two chambers, isocenter versus off-axis, and in-air versus in-water comparisons

Any task where a high quality reference grade electrometer is required