SEEDVAC™ NEEDLE LOADING SYSTEM, SeeDOS Code Number 90091
NEW (February 2003) New Brachytherapy source measuring and handling systems pdf
Significantly reduces exposure

FAST! Loads 2-3 needles per minute or One cartridge per minute

Visually verify seed and spacer sequence prior to loading

Excellent for counting of seeds

Needle holder doubles as an autoradiograph jig

Completely steam or gas sterilizable!
Needle Loading System
SeedVac™ for Pre-loaded Needles
Significantly reduces radiation exposure
Minimizes seed handling time

Integrates shielding for all operations

Maximizes distance from the seeds at all times

Only a few seeds are exposed at a time


The SeedVac™ is a vacuum driven device designed to pull prostate implant seeds and spacers into a clear tube tip. Seeds are drawn into the clear tube tip by placing a finger over a hole on the hand piece to create the vacuum. The prescribed sequence of seeds and spacers is visually verified in the clear tube tip before being placed into the needle. These seeds and spacers are then placed into an implant needle simply by lifting your finger off the hole. A circular aluminium shield near the end of the hand piece provides radiation protection to the hand during the loading procedure. All components can be steam sterilized between each use.
The SeedVac™ is composed of three pieces: 1. A vacuum pump. 2. An aluminium hand piece including autoclavable plastic tubing which connects to the vacuum pump. 3. A set of clear tube tips to pick up seeds and spacers.



The SeedVac™ hand piece with the clear tube tips used for pre-loading seeds and spacers.


The SeedVac™ clear tube tip loaded with six seeds and seven spacers.

The SeedVac™ hand piece positioned to drop a set of seeds and spacers into a needle.

Using the SeedVac™ to pick up a I-125 RAPID Strand™.

A piece of I-125 RAPID Strand™ is placed in a needle.
Why select this system?
Speed + Versatility + Shielding
Combine to make this a truly superior needle loading environment.
Seed Handling and Needle Loading Instruments
SeedVac™ for Loading Cartridges
The SeedVac™ is designed for loading cartridges typically used with the Mick® Applicator. A cartridge can be fully loaded in approximately one minute using the SeedVac's Cartridge Loading Tip. A carefully crafted notch at the end of the Cartridge Loading Tip effortlessly places seeds into the cartridge, making the difficult task of loading cartridges by hand a thing of the past. This tip is convenient for picking up individual seeds.

Patent Pending
Mick® Applicator is a registered trademark of Mick Radionuclear Instruments, Inc.

Picking up a single seed. Note the tip is centred on the seed.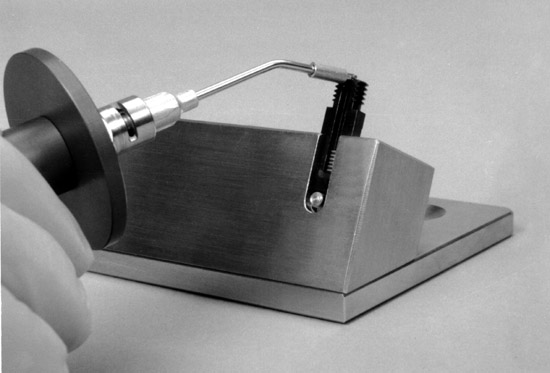 Using the SeedVac™ to place a seed in a cartridge.
Needle Loading Platform and Shield with Vertical Needle Holder, SeeDOS Code 90072
for shielding while loading needles for prostate treatment.
The Needle Loading Platform and Shield provides a convenient work station for loading, counting and handling seeds prior to loading needles in a radiation shielded environment. It is specifically designed to bring work up to a comfortable level, limiting movement and the number of steps needed to accomplish loading. This translates into more efficiency in the needle loading procedure and saves you time.
The Needle Holder holds needles in place for loading and provides shielding for loaded needles. When stored in the Needle Holder, the needles are already positioned for an autoradiograph to verify and document the loading sequence. Additional Needle Holders can be used for storage if desired. Each Needle Holder can accommodate 20 needles with numbered stations in a shielded position.


Patent Pending

The Needle Loading Platform showing the SeedVac™ hand piece and the Seed Sterilization and Sorting Tray in position for loading needles.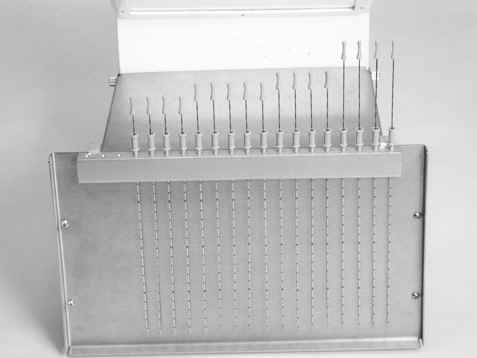 View of the Needle Holder with loaded needles. The different lengths of the stylets reflect different combinations of seeds and spacers.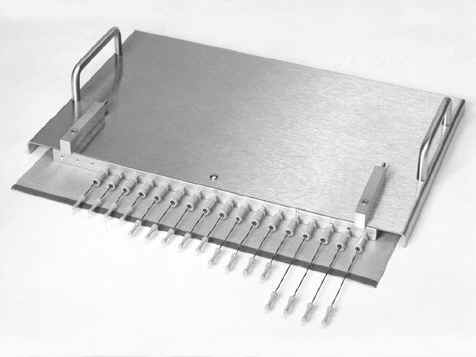 The Needle Holder is positioned on a ready pack film to prepare an autoradiograph of the loaded needles.
If you are interested in any of the products mentioned here, please complete a prostate brachytherapy quotation request form, so that we may promptly respond to your request.
If you are interested in any of the products mentioned here, please complete a Quotation Request Form or an
Enquiry Form so that we may promptly respond to your detailed request.
Please contact Colin Walters at cwalters@seedos.com if you would like further information or you have questions
or comments about this web site.
SeeDOS Ltd, 26, The Maltings, Leighton Buzzard, Bedfordshire LU7 4BS, United Kingdom
Tel: +44 1525 850 670 • Fax: +44 1525 850 685