New Solid-Lock Stepper / Stabilizer / Template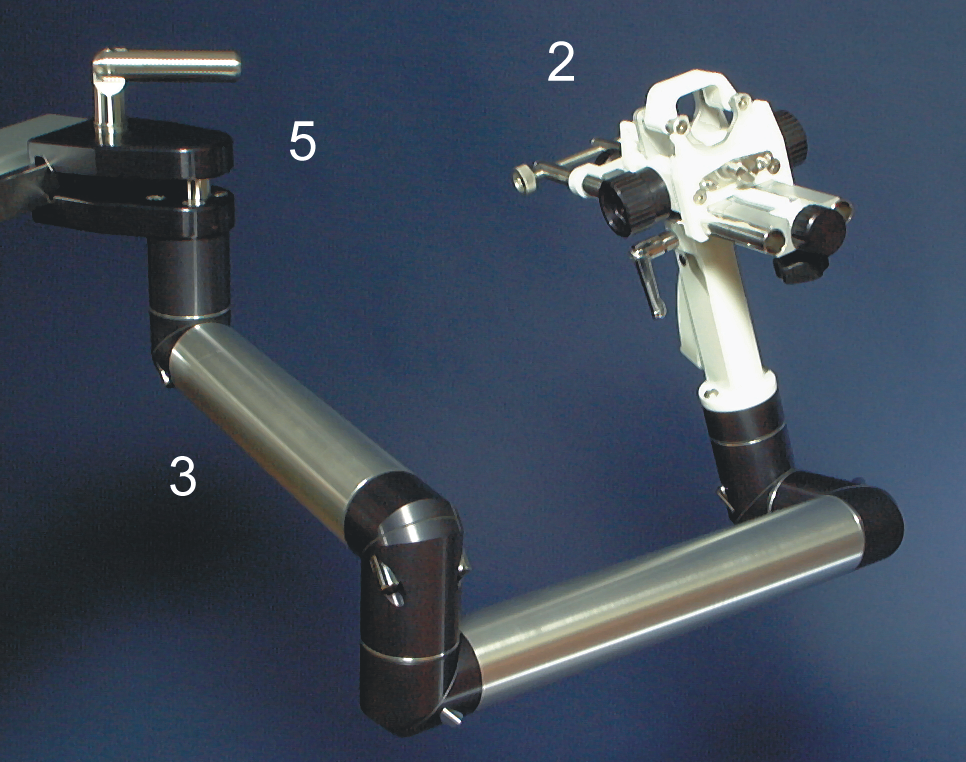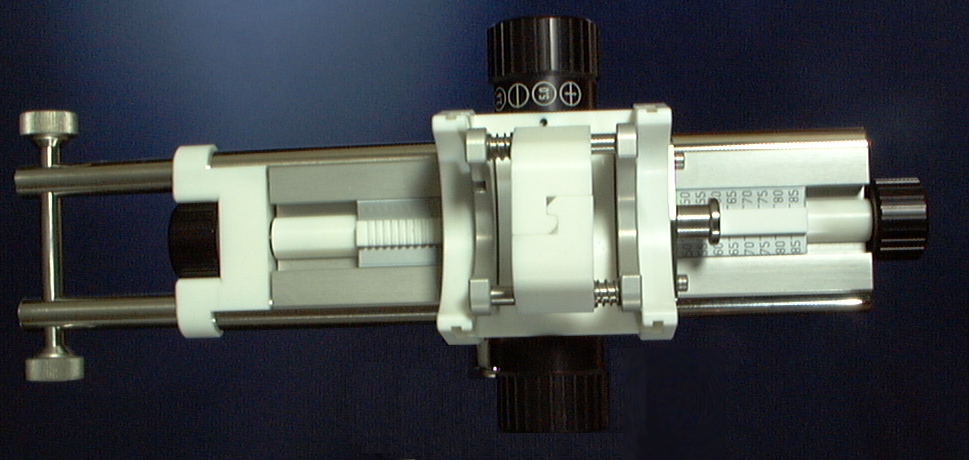 Brachytherapy Hardware - Go To PSID 3.5 Brachytherapy Software
The Perfect User-Oriented System
Stabilizer / Stepper / Template
Stepper (2), New Stabilizer (3), Fixation device adapts to rail of any OR Table (5)
Stepper
The precision stepper (image above) enables the user to advance and retract an endo-rectal ultrasound probe in the rectum to image the prostate.
The endo-rectal probe is inserted into and fixed to the stepper and positioned by moving the stepper/probe combinatio

Any endo-rectal probe from any producer can be fit to the stepper.

Probe can be rotated around the probe´s long axis (± 45°). The probe locks into the adjustable center position.

Movable length of the probe with the stepper: 100 mm

Scale for position recognition.

Step width: 2,5 mm or 5 mm selectable as well as free analog movement in and out of the rectum

Additional free analogue movement of the probe to define the exact stating point for stepwise movement: 50 mm

Template is movable (100 mm) in the direction parallel to the ER probe´s long axis and can be fixed in any position

.
Template
Needle guide grid system for brachytherapy needles: Matrix of 13 x 13 individual channels (all channels for 18 Gauge needles - standard)

2 nomenclatures (reversible) of the needle channel rows: 1 to 7 (every second row with number, front side of template) or 0 to 12 (every row with number, back side of template)

Row spacing: 5 mm in both cases

2 nomenclatures (reversible) of the needle channel columns: A to G (every second row with letter, front side of template) or A to M (every row with letter, back side of template)

Column spacing: 5 mm in both cases

The template is made of a material used for implants - PEEK. It is thus fully bio-compatible.

Sterilisable: for at least 200 repeat sterilisations, with steam at 115°C - 140°C (pressure 2 to 3 bar), Can be heated in air up to 200°C for a indefinite period of time

Template size: approx. 150 x 76 x 20 mm (H x W x D)
Stabilizer
OR Table Adapter
This device is needed to fasten the stabilizer to an application table or cystoscopy chair. Adapters for Philips LDME table or table HMT (Type PST 153/ PST 163) or for Schmitz (Type 211.276, 200.408) are available. Adapters for other tables can be custom made according to the table specifications. A custom adaptation to any table or chair is also possible.
All components can be disinfected. The stepper is fully submersible in a disinfectant liquid.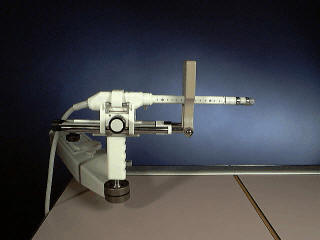 Stepper showing alternative stabilizer and template fixed in position
If you are interested in any of the products mentioned here, please fill out an Enquiry Form or Go To the Prostate Implant Brachytherapy Product List / Quotation Request Form, so that we may promptly respond to your request.
Please contact Colin Walters at cwalters@seedos.com if you would like further information or you have questions
or comments about this web site.
SeeDOS Ltd, 26, The Maltings, Leighton Buzzard, Bedfordshire LU7 4BS, United Kingdom
Tel: +44 1525 850 670 • Fax: +44 1525 850 685