HDR CT Compatible Intrauterine Sleeves
SeeDOS Code Number 0311
<![if !vml]>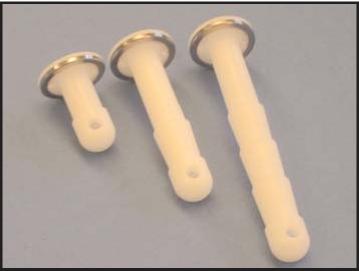 <![endif]>
These IU ( Intrauterine ) Sleeves are Designed to Facilitate the Insertion of Cervical
Tandems with HDR CT Compatible
Cervical Applicators

Description:
Incorporated in the sleeve's 15mm diameter flange is a Titanium Marker Ring for CT localization and two suture holes to keep the sleeve securely in place for future insertion of tandems.
Instructions for Use:
1. Choose an intrauterine sleeve of suitable uterine length.
2. Pursuant to the dilation of the cervix, insert the intrauterine sleeve, narrow end first, into the uterine canal until the flange touches the cervix.
3. Suture the sleeve's flange to the cervix using the two suture holes provided.
4. Following the last HDR fraction, remove the sutures and retrieve the intrauterine sleeve and discard it.
Prior to HDR treatment, the CT compatible Intrauterine Sleeve may be inserted into the Cervical Canal and sutured to the Cervical Os.
Repeated insertion of the tandems during the HDR fractionation schemes not only simplifies the procedure with the elimination of repeated local anesthesia, it prevents the possibility of uterine perforation.
Technical Specifications:
The intrauterine Sleeves are manufactured from Delrin and available in 7 lengths; 20, 30, 40, 50, 60, 70 and 80mm. All Sleeves are provided with an orifice 3.3mm in diameter to accommodate tandems of 3.18mm outside diameter.
Component Listing :